1 TRANSFER
In order to make a booking, just log into your TransferGo profile and follow these easy steps:
Click the 'Send money' button (if you are a first time user, you'll be redirected to the next step right away).

Choose the 'Sending from' and 'Receiving in' countries and enter the amount you want to transfer.

Click the 'Continue' button.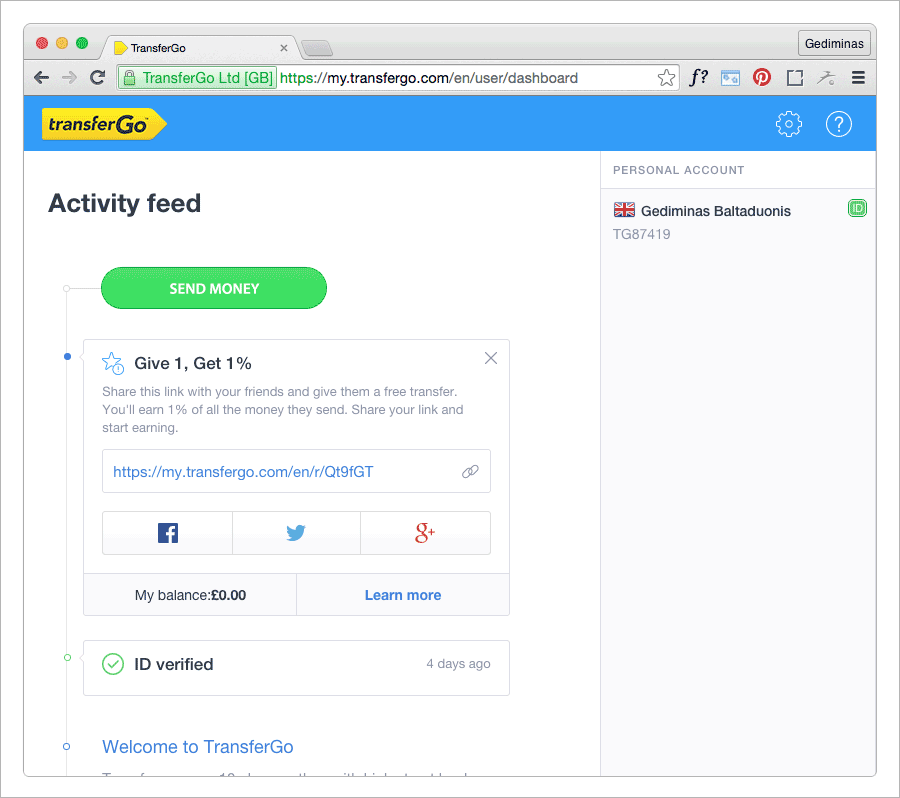 2 RECIPIENT:
Fill in all the necessary transfer details. Please make sure that you provide the real and full name of your recipient and the correct account details.
If you want your receiver to be notified about the completed transfer, fill in the 'Notify recipient' area.

Click the 'Confirm details' button.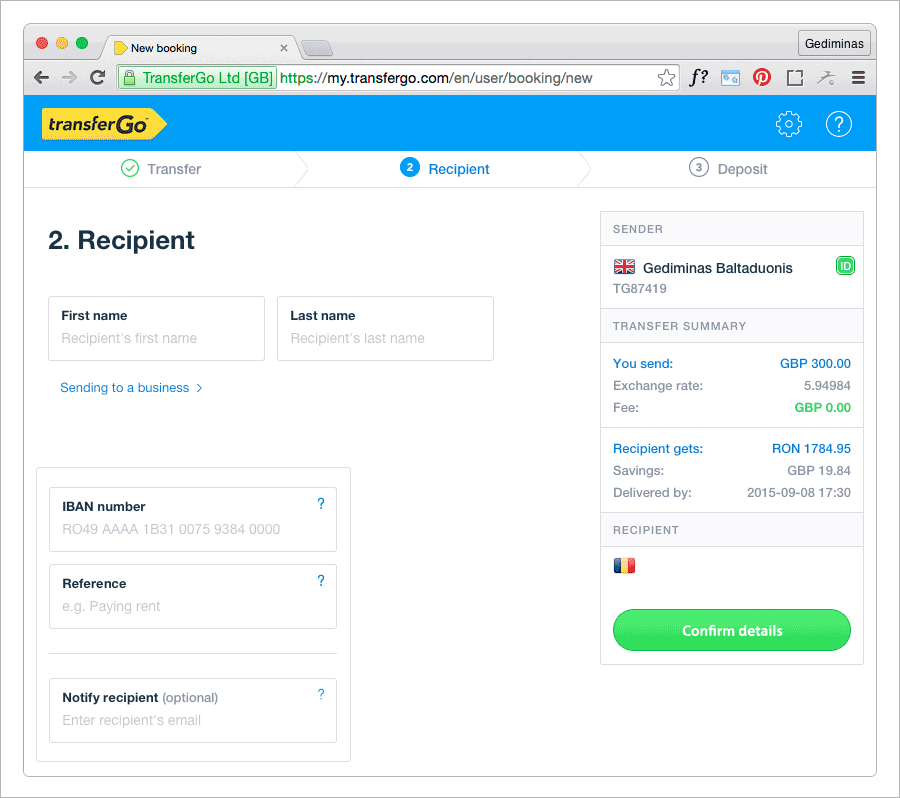 Depending on the country you're making your transfer to, you may be asked to provide the following bank details:
Sending to:

Details to provide:

UK, Ireland

a sort code and a local account number

or

IBAN account number

EEA and Eurozone countries

IBAN account number

USA

address of the recipient, account number and BIC/SWIFT code

Australia and South Africa

address of the recipient, account number and BIC/SWIFT code
Please be aware that in all cases, you'll be asked to provide a full name and surname of your recipient or company name if you're sending the money to a company.
3 DEPOSIT:
To finish your transfer choose one of two ways:
 • 'Bank deposit'. You can make a local transfer using the details provided in the 'Bank deposit' tab.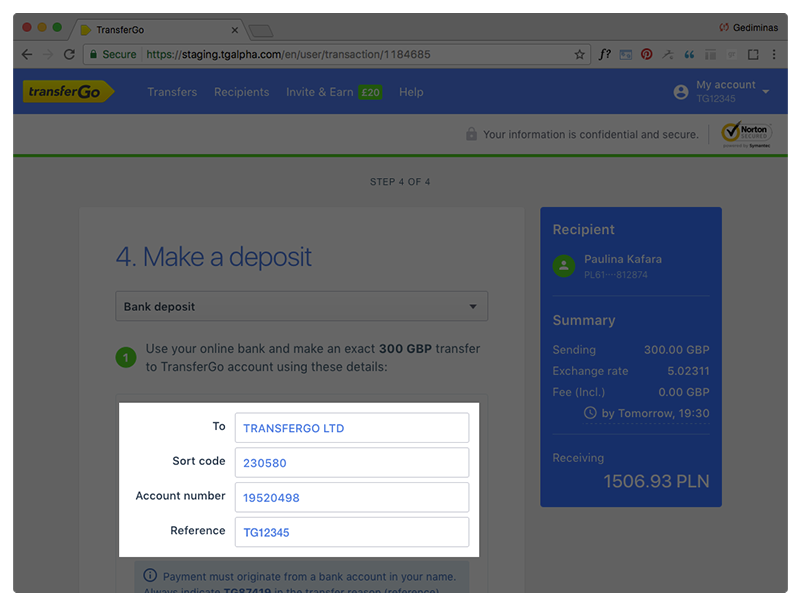 • 'Debit card'. If you have 'Visa' or 'Mastercard' and your transfer amount is less than 1,000.00 GBP (UK) or 1,000.00 EUR for personal accounts and 2,000.00 GBP (UK) or 2,000.00 EUR for business customers, you will have an option to use your debit card while making a transfer under the 'Debit card' tab. Select these and click the 'Pay (amount)' button.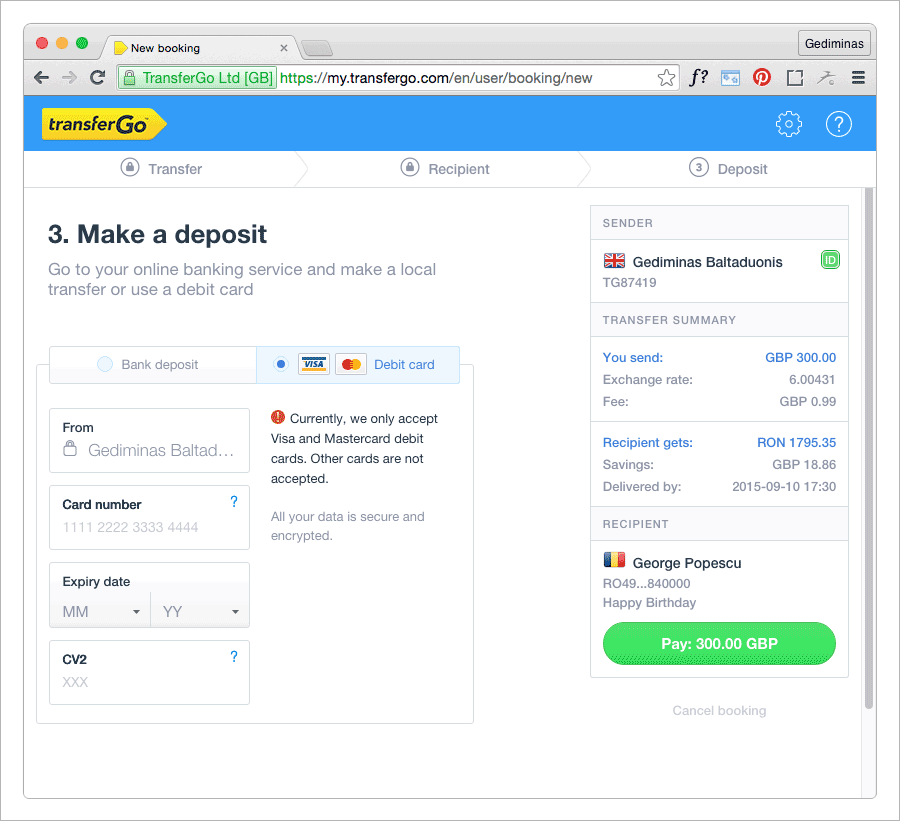 Please be aware that after creating a new booking, it remains active for one business day i.e. 24 hours within which you have to make a deposit to TransferGo. Don't worry, after it expires, you can make a new one. 
We will inform you by email after money is sent to your recipient. You can also check the status of your transfer at any time.